Andrew Johnston makes second swan rescue in Belfast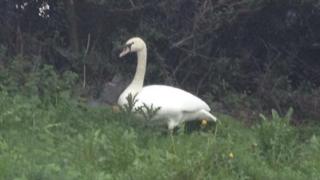 A Belfast man has managed to rescue a swan from city traffic for the second time in two days.
On Monday, Andrew Johnston took the bird, which was causing chaos on the Sydenham bypass, to the River Lagan.
On Tuesday, it was spotted by motorists at New Forge Lane in south Belfast.
Mr Johnston said, after catching the swan again, he took it to Lough Neagh.
On Monday, he was dropping his girlfriend off at Belfast City Airport when he noticed the bird at the edge of the busy road.
Mr Johnston contacted the USPCA, the police and park rangers but ended up rescuing the bird himself.
The swan was released at Shaw's Bridge in south Belfast.
"When I was dropping my girlfriend off I noticed the swan at the side of the road," he said.
Rescue
"I drove past a few times and it was still there."
Mr Johnston told BBC Radio Ulster's Evening Extra programme that he then contacted the USPCA who told him to contact the police.
After police were unable to locate the swan, Mr Johnston then contacted park rangers who said they would be unable to move the bird.
Mr Johnston then decided that he and a friend would rescue the bird.
"I roped in a friend and we headed back up there and caught the swan," he said.
"I used to be a zookeeper so I have some experience of looking after large animals.
Free at last
"We held a blanket up and cornered it up against the wall."
After putting a blanket over the swan the men put it into their car and took it to a local vet for a check up.
"It had no obvious breaks and only had some superficial wounds to its legs," he said.
It is believed the swan could have landed on the road by mistake, thinking it was water, or it could have been forced out of nearby Victoria Park by a breeding pair.