Taggart Group: Ex-developer says Ulster Bank concerns 'should have been disclosed sooner'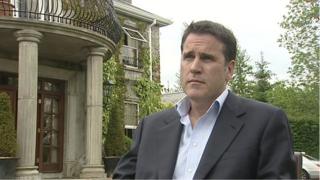 An ex-property developer has told the High Court his company would not have gone bust if bank concerns about its finances had been disclosed sooner.
Michael Taggart claimed he could easily have raised tens of millions of pounds by selling off sites and a personal property folio.
Mr Taggart and his brother John are suing the Ulster Bank for damages after they lost their business empire in the 2007 property price crash.
The bank is counter-suing the pair.
Speaking on Monday, Mr Taggart said: "We are talking about 20 years work and wealth that had been accumulated, that this one bank had pulled the rug from us.
"Those concerns would have made me think that was possible. If they had been communicated to me I would most definitely have dealt with it immediately."
The brothers' Dublin offices and development sites across Ireland and the south of England were all sold off as the property market slumped towards the end of 2007, in a bid to reduce debt and ease financial pressures on the troubled firm.
The brothers used to run one of Northern Ireland's largest companies, but the Taggart Group was hit badly by the housing crash and went into administration in 2008.
Assets
The Taggarts have claimed Ulster Bank contributed to the collapse of their house-building firm through alleged negligence and improper conduct and they are seeking tens of millions of pounds in damages.
In a counter claim, the bank has lodged writs for £5m and 4.3m euros (£3.4m) it alleges the brothers owe in personal guarantees over land purchases in Kinsealy, County Dublin, and in Northern Ireland.
Central to the brothers' case is an allegation that the bank failed to properly warn them of its concerns about the financial status of their business at the time.
Had they known of any unease, they claim, plenty of assets were at their disposal that could have been sold to off-set loans.
The judge in the case was previously told how the Taggart's property portfolio once extended to a Luxembourg shopping centre and apartments in Florida and on the borders of Monte Carlo.
The company was also involved in three major joint-venture acquisitions in Northern Ireland involving total deals of around £270m.
Questioned by his barrister, Mr Taggart claimed he could easily have disposed of some of those assets and other sites in the Republic of Ireland in the Spring of 2007, if alerted to the bank's anxieties.
Around £2.5m invested in the shopping centre could also have been redirected into the Taggart group, he told the court.
Millions more could have been raised through the sale of the brothers' own residential homes, according to the businessman.
His barrister asked what he thought would have happened to the Taggart group if he had been given the chance to take such steps.
"I believe we would have been sitting in a very strong cash position and, I might add, I certainly would not be here today," Mr Taggart replied.
Pressed on whether he believed the company would still have gone into administration, he said: "It wouldn't have happened."
The hearing continues.