Fifty pairs of false eyelashes and fake tan stolen in Belfast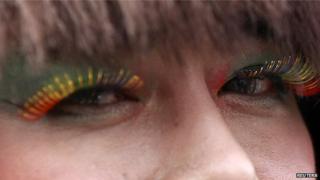 Fifty pairs of false eyelashes and 30 boxes of fake tan have been stolen from a beauty salon in Belfast.
Police said there were seven burglaries and attempted burglaries at shops on the Ormeau Road over the weekend.
Cash was also taken from a number of the shops.
Det Con Ciara Mullan said: "We believe that approximately two or three males were involved in these burglaries and tools were used to force rear and front doors in the various premises."
Police have asked for anyone with any information to contact them.