PMs 'need to engage in NI talks' says Simon Hamilton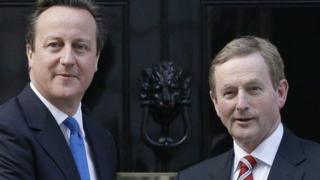 The British and Irish prime ministers must be properly engaged in Northern Ireland's political talks for a deal to be reached, Finance Minister Simon Hamilton has said.
David Cameron and Enda Kenny are expected to be in Belfast this week in an attempt to broker a solution.
The talks concern disputes on flags, parades, the legacy of the Troubles and welfare reform.
Mr Hamilton said he was more optimistic that an agreement could be found.
'Exceptionally positive'
"Between now and Christmas, we have got to make significant progress," the DUP assembly member told the BBC's Inside Business programme.
"The talks process has been going on for about eight weeks now, and we really need to take it to another level.
"If I was to judge it on the discussions I've been involved with over the past eight weeks, I wouldn't be massively optimistic, but in the last number of days, engagement between ourselves and Sinn Féin has been exceptionally positive.
"There is a commitment to work really hard over the next number of days, and I think everybody understands that we need to make progress."
Chancellor George Osborne has said devolving corporation tax powers to Stormont would depend on the outcome of the talks.
Unlike the rest of the UK, reductions to the welfare budget have not been implemented in Northern Ireland.
Sinn Féin remains resolutely opposed to introducing the cuts, while the DUP maintains that the consequent reduction in Northern Ireland's block grant means that there is no choice. The shortfall is estimated at £200m.
A previous effort to find new mechanisms to deal with the flying of flags, parades, and the legacy of the conflict ended without agreement last Christmas.
Inside Business is on BBC Radio Ulster at 13:30 GMT on Sunday.