In their footsteps: Shoes tell stories of lives cut short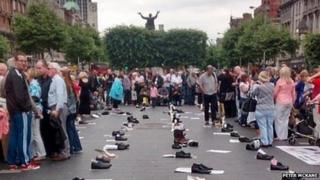 They are a pile of old, worn shoes.
They would not be out of place on a wonky trestle table at a jumble sale.
They are battered shoes; gym shoes; trainers; crocodile leather, well-worn and polished models.
But for 150 families affected by the Northern Ireland Troubles, the shoes are precious.
"These are shoes that should be filled and they are not," said Sara Duddy.
She works for the Pat Finucane Centre, a human rights campaign group that offers support to families from all backgrounds bereaved by the conflict on the island of Ireland.
The centre is one of a range of groups involved in organising the exhibition of shoes belonging to those who died or were injured as a result of the Troubles.
Downing Street
The shoes carry memories of the wearers whose journeys were halted abruptly by the thunder of a bomb, by a stray bullet, by walking into the wrong place at the wrong time.
Now, the shoes are on a journey to London where they will be set out close to the doorstep of Downing Street.
The exhibition is called: In Their Footsteps.
Each pair of shoes carries a personal note from a family bereaved by the Troubles and a photograph of an individual lost to those they loved.
And in among that 150 pairs of shoes making their way to London on Wednesday are the baby shoes - pristine, never worn - because the mother-to-be was killed and two futures stopped in the whisper of a heartbeat.
'Open to anybody'
Many of other groups involved in organising the shoe exhibition campaign on behalf of victims of state killings and atrocities in which the state is alleged to have colluded in or covered up paramilitary murders.
They include the Bloody Sunday Trust, the Ballymurphy Massacre families, people killed by the Army's Military Reaction Force (MRF), as well as victims of the Glenanne and Mount Vernon loyalist gangs.
The majority of the victims are from nationalist backgrounds but Sara Duddy said this was an exhibition without a specific political banner.
"This is about putting pressure on the British and Irish governments to deal with the past," she said.
"We have asked any families who want, to contribute.
"There are victims of loyalist and republican violence and of state violence. This is open to anybody."
Along the way, every death carries a story and each set of shoes has a note of remembrance.
"People have come with the original shoes and have said: 'These are the shoes he was wearing on the day he was killed'".
'Heartbreaking'
And there are those baby shoes.
"We've had baby shoes brought by the family of a pregnant woman who was killed," she said.
"Every story is as heartbreaking as the last."
Tony Brown's nephew, Paul Whitters, was 15 years old when he was shot in the head with a plastic bullet.
For him, the shoes are "a potent symbol of the needless loss of life" during the Troubles.
"My memories of Paul are very vivid. His life ended on the streets of Derry in 1981. Paul's death need not have occurred," he said.
'Still grieving'
Mr Brown said former police ombudsman Nuala O'Loan had carried out a very thorough investigation as compared to the original inquiry.
"There are many families still grieving over the fact that they lost their nearest and dearest needlessly and proper investigations were not carried out" he said.
John Teggart's father, Danny, was one of 11 people killed by paratroops in west Belfast in what became known as the Ballymurphy massacre in August 1971
His 15-year-old brother, Bernard, was shot by the IRA in 1973.
"This campaign is gathering momentum. We brought it to the streets of Dublin and then to Stormont and now we are heading to London," he said.
"This is a campaign for everyone. It is not just for nationalists - it is open to all and it is growing."
'Collusion'
Victims and survivors of the Dublin Monaghan bombings, McGurk's bar, plastic and rubber bullets are represented.
For Pat Fay, the day when his father, Patrick Fay, died in an explosion in Talbot Street, Dublin, 40 years ago, is etched on his memory.
"My father was on his way home from work. It was a Friday and he always stopped to fill the car up with petrol. The chap who served him went to get change and the blast blew him back into the shop.
"That same chap was pronounced dead but came to in the morgue. He still has nightmares and is badly affected."
Pat Fay is an only child. He remembered going to see his father's body in the funeral parlour.
"There were two other coffins from the bombs and they were both closed," he said.
"I looked at my father in the coffin and I did not want anyone to see him that way. The coffin was closed and the crowds of the world were there.
"No-one ever saw him. It was the best way. It was not pretty."
Pat will be joined by his daughter in London at the exhibition.
What he wants is to know the truth about allegations of collusion between the UK government and loyalists in the Dublin Monaghan bombings.
"It's not easy. It leaves a mark that doesn't go away. You have to be in someone's shoes to really understand it.
"What we want is closure."