Sean O'Hagan: Living large with Ulster's strongest man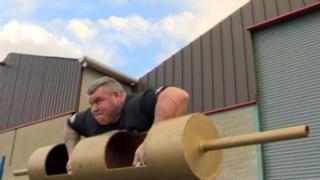 Sean O'Hagan's entire body shakes as he attempts the final push. Blood rushes to his face.
There is one last gasp for oxygen as his eyes close. The steel log press is torture.
Something physically has to give but doesn't. What looks like a large cannon is hoisted over his head and the first exercise is over.
Sean is hard to miss. Standing nearly 7ft tall and weighing almost 30st he is one of the biggest men in Ireland.
At 24, he is already Ulster's strongest man and still years off his prime.
He comes from the tiny village of Loughbrickland in County Down and now trains full-time as a strongman.
"I was always big for my age," he says in a soft voice, sitting on a tractor tyre.
"I eat maybe five or six times during the course of the day, the type of meal just depends."
It turns out that flipping this tractor tyre up and down the yard is one of his best events.
"I was helping one of the other competitors train one day and I was matching his reps [repetitions] on the [Atlas] stones," he added.
'Heaviest in the world'
This led to Sean contacting well-known County Down strongman Glenn Ross, a man who won 10 British titles and was also crowned the strongest man in Europe.
Sean chalks up his hands ready for the single-arm press. It is a 16st giant dumbbell; like something you would see in a cartoon.
Another three repetitions on each arm follow.
Describing the training yard is difficult. It is a like a bizarre scrap metal yard. Solid iron bars lie bent and twisted on the ground.
"I can bend one in 13 seconds," says Sean.
Behind some of the homemade apparatus are two parked cars. Like the tractor tyres, these are for flipping over.
In the corner lies a stack of giant cannon balls.
These are the iconic Atlas stones; an event synonymous with strongman competitions.
"That's the heaviest in the world," says Sean pointing to the largest of the boulders.
"It's 250 kilos (around 40 st). Brian Shaw lifted it last year, but he's the only one so far."
Shaw was named the world's strongest man in 2013.
'Frightening'
A forklift appears carrying two black lead pipes with handles welded to the top.
"Right, Sean - lightweight," shouts Glenn Ross, as his pupil crouches to pick them up.
Collectively, the bars weigh a quarter of a ton.
"He's world-class at this," whispers Ross.
The goal is to walk up and down the yard as many times without dropping the weight. Some strongmen barely make it 20ft before losing their grip.
Sean's intensity is frightening. He completes the first lap with relative ease before slowly turning and heading back to the start line.
About halfway through, the pain starts to set in. His head turns red and there are shouts of agony.
'Frantic'
Once again his enormous frame starts to shake as he walks through the pain.
His breathing becomes frantic.
The ground shakes as Sean drops the lead pipes; he's covered around 100ft. Glenn wasn't joking, this really is world-class.
The giant attempts to lift his arms in celebration but can't. He leans against a fence in an attempt to control his breathing and slowly glances over.
His face is strained, exhausted and grinning.