'Graduated response': TUV, UKIP and PUP leave joint unionist group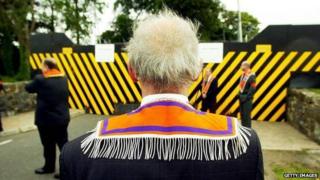 TUV, UKIP and the PUP have withdrawn from a joint unionist response to the impasse over an Orange Order parade.
In July, five parties announced a "graduated response" in protest at Parades Commission restrictions on a 12 July march in north Belfast.
On Monday, the TUV and UKIP said the DUP and UUP had broken an agreement not to negotiate over parades with other parties until the impasse was resolved.
The DUP has denied it has negotiated on parades.
The UUP accused the two parties of looking for an excuse to withdraw.
'In the dark'
The five parties had joined together in protest at the 12 July parade being barred from returning along a part of the Crumlin Road in north Belfast that separates Protestant and Catholic communities.
TUV leader Jim Allister and UKIP assembly member David McNarry said in a joint statement that "the actions of the DUP and UUP have left us with no honourable option".
They said the refusal of unionist participation in inter-party talks on the subject of parading while the stand-off continued was "central to the credibility of any 'graduated response'".
"There cannot be a united response on the issue of parading when some parties engage in discussions with republicans on the issue while keeping fellow unionists in the dark about the fact that these discussions are taking place, never mind the substance of them," they said.
PUP leader Billy Hutchinson said: "The fact that the DUP and UUP have turned their back on the Ligoniel brethren and gone into talks with republicans around parades is a slap in the face for those who have stood firm in their peaceful campaign."
'Uncomfortable'
A DUP spokesman said there was "absolutely no basis for this action".
"In those talks we have made clear our position on parades in order to ensure the government papers reflect our views and continued to argue the case on the need to resolve the Ligoniel parades impasse," he said.
The DUP spokesman added: "The truth is that both men have been itching to break up the unity we have been building within unionism."
The Ulster Unionist Party said it "remains committed to securing a return parade for the Ligoniel lodges in north Belfast and to a fair resolution to the issue of contested parades and associated protests".
"It was clear to us from the outset that certain parties were uncomfortable with a collective approach to these matters and sought an excuse to withdraw - regrettably that has now come to pass," its spokesperson added.
An Orange Order spokesman said: "The Orange Institution will be seeking to meet, at the earliest opportunity, all of the representatives of the unionist groups concerned to clarify the situation."