James McDonnell: £7,896 awarded to mother of dead prisoner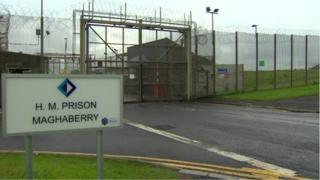 The European Court of Human Rights has awarded nearly £8,000 in damages to the mother of an Antrim man who died at Maghaberry prison in March 1996.
James McDonnell, 36, was found unconscious in an isolation cell at the jail. An initial autopsy concluded he died from a heart attack.
It followed an incident in which he was restrained by prison officers.
The European court awarded damages of £7,896 as the 17-year delay in inquest proceedings was deemed excessive.
Costs and expenses of £6,317 were also awarded.
An inquest in May 2013 found that there had been a failure in the duty of care towards prisoners in Mr McDonnell's case.
It concluded that the factors that had contributed to Mr McDonnell's fatal heart attack were: the initial restraint by prison officers; neck compression; the control and restraint procedure carried out against him; an underlying heart condition; and emotional stress.