Corporation tax: Northern Ireland executive research suggests 40,000 jobs could be delivered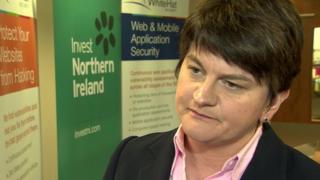 New research for the Northern Ireland executive suggests 40,000 additional jobs could be delivered by lowering corporation tax.
This is less than the 58,000 first predicted in 2011.
Enterprise Minister Arlene Foster revealed the figure on Tuesday.
She said the difference in projections was based on the UK having lowered its corporation tax rate in the intervening years.
"We have had fresh work carried out for us by the Northern Ireland Centre for Economic Policy and they have given us new statistics showing us the economy will grow by about 11% by 2033 if we are able to deal with the corporate tax issue," she added.
"That's about 40,000 jobs as I understand."
Earlier this month, Chancellor George Osborne, said that any decision on devolving corporation tax to Northern Ireland would be dependent on the outcome of the cross-party talks in Northern Ireland.
Mr Osborne said that Northern Ireland parties had to show they can "manage the financial implications".