Secretary of State Theresa Villiers urges politicians to 'go the extra mile' in talks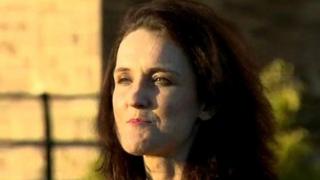 The secretary of state has urged political leaders in Northern Ireland to "go the extra mile" in the latest round of talks.
Theresa Villiers called on politicians to show strong leadership in the coming days, as discussions enter their ninth week.
The talks concern disputes on flags, parades, the past and welfare reform.
Ms Villiers said the credibility and effectiveness of the devolved institutions was on the line.
'Sensitive issues'
"We are entering a crucial few days. There's a huge amount at stake as we roll up our sleeves for what we hope will be the conclusion of this process," Ms Villiers said.
"The credibility and effectiveness of the devolved institutions is on the line. I cannot stress enough how important it is for all talks participants to go the extra mile.
"In the past, Northern Ireland's political leaders have shown great courage in moving forward on some very difficult and sensitive issues, and I believe the will is there to do so again now.
"The UK Government is doing all it can to help deliver an agreement.
'Strong leadership'
"This is the week for Northern Ireland's politicians to demonstrate strong leadership and engage earnestly and positively in the interests of securing stable and effective government for all in Northern Ireland," Ms Villiers added.
A previous effort to find new mechanisms to deal with the issues of flags, parades, and the legacy of the Troubles ended without agreement last Christmas.
Justice Minister David Ford has indicated more agreement was being reached in the current talks over the legacy of the Troubles.
"I certainly believe that there are very significant issues relating to legacy which were not dealt with fully a year ago when Richard Haass convened the talks, which it now appears are being dealt with in a more comprehensive and joined-up way."
'Corporation tax'
Chancellor George Osborne has said devolving corporation tax powers to Stormont would depend on the outcome of the talks.
Unlike the rest of the UK, reductions to the welfare budget have not been implemented in Northern Ireland.
Sinn Féin is opposed to introducing the cuts, while the DUP says that the consequent reduction in Northern Ireland's block grant means that there is no choice. The shortfall is estimated at £200m.
First Minister Peter Robinson and deputy First Minister Martin McGuinness said they both wanted resolution this week.