Commissioner calls for action to reduce crime against older people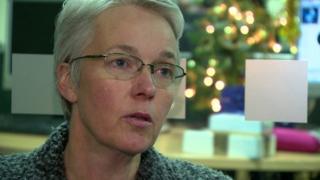 A watchdog for the elderly has called on the police to do more to tackle the issue of crime against older people.
Northern Ireland's Commissioner for Older People Claire Keatinge said specific targets needed to be put in place to ensure offenders are brought to justice.
The renewed call follows a recent spate of burglaries against older people, some of which were violent.
Ms Keatinge said steps had to be taken to prevent further crime.
'Entirely unacceptable'
"My analysis shows that crimes against older people are less likely to result in a prosecution than similar crimes committed against people in any other age group," she said.
"That is entirely unacceptable.
"I have already called on the PSNI and the Policing Board to introduce specific targets to improve the clearance rate so that more offenders are brought swiftly before the courts, to deter crime against older people and reassure older people that when crimes are committed against them, this is taken extremely seriously.
"A recent analysis of PSNI statistics carried out by my office found that crimes committed against older people have a clearance rate of only 9% compared with a rate of 17% for other age groups, meaning that they are less likely to result in prosecution."