Mivan: Redundant construction workers win payout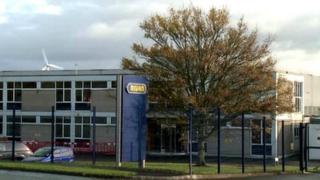 Former employees at the County Antrim construction firm Mivan have won a compensation payout after they were made redundant without warning.
Staff lost their jobs when Mivan went into administration in January 2014.
A case was taken by a law firm that argued staff were entitled to a protective award, as they had not been consulted before being made redundant.
Each worker is likely to receive about £2,500 in compensation as a result of the industrial tribunal ruling.
Insolvent
The tribunal granted the protective award for all the workers who had made a claim.
As Mivan is insolvent, the award will be paid by the redundancy payments service and was capped at eight weeks' pay.
Many of the 144 former staff were members of the Union of Construction, Allied Trades and Technicians (UCATT).
Andy Fisher, regional secretary for UCATT's north west and Northern Ireland Region, said: "Dedicated construction workers, many with years of service with the company, were dismissed without warning.
"It is only through the combined efforts of UCATT and Thompsons NI, that these workers have been able to receive compensation."
'Time limit'
The protective award ruling paves the way for other former employees at Mivan to also claim compensation.
John O'Neill, from Thompsons NI solicitors said: "While many of the ex-Mivan staff have now successfully brought such claims, there are still around 140 such persons who have not brought claims.
"While this most recent decision of the tribunal potentially makes a similar award to these persons, they will not receive any such award without pursuing a formal legal process of making a claim to the tribunal.
'Helpful'
"As there is a short time limit for any such claims at this stage, it is vital that any ex-Mivan employee who was dismissed on or after 17 January 2014 who has not already been part of any such claim and now wishes to do so should do so as soon as possible."
Ex-Mivan employee William Glendinning, from Newtownabbey, said: "This extra compensation is very helpful to myself and the others who lost their jobs with no prior warning and consultation, a number of whom remain unemployed or had to go abroad to get work."
Mivan was one of Northern Ireland's best known construction companies.
The Antrim-based firm employed 289 people and specialised in fitting out cruise ships and high-end commercial and residential developments.
High-profile
Mivan made massive losses on projects in Romania, which led to a restructuring of the business in 2012.
However, it continued to face problems and late in 2013, it entered talks with Lagan Group Holdings about a possible takeover deal, but the discussions ended without agreement.
Mivan was founded by Ivan McCabrey in 1975, and he quickly moved into overseas contracting.
In the early 1980s, the firm was involved in a wide range of projects in Iraq, including power stations, apartments and a palace for Saddam Hussein.
The company continued to win work in the Middle East, including the restoration of the prestigious Dome of the Rock in Jerusalem, for which it won a Queen's Award for Export.
Other high-profile jobs included fit-outs at Disneyland Paris, the Millennium Dome, the Scottish Parliament Building at Holyrood in Edinburgh, and One Hyde Park, London's most expensive apartment development.