Northern Ireland leaders to attend talks with David Cameron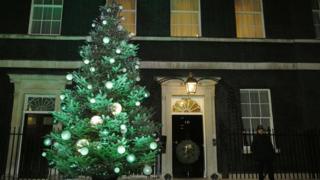 Northern Ireland's first and deputy first ministers are to join other UK leaders for talks with David Cameron in Downing Street on Monday morning.
Scottish and Welsh leaders will also attend the Joint Ministerial Committee.
The talks come three days after the prime minister's offer of a financial package for the Northern Ireland Executive was rejected by Stormont.
Mr Cameron flew to Belfast last Thursday for all-party talks but left on Friday morning without a deal.
The Belfast talks are aimed at resolving outstanding disputes over flags, parades, the legacy of the Troubles and welfare reform.
Agenda
Monday's meeting in Downing Street was arranged long before the prime minister presented his financial package to the parties at Stormont.
Mr Cameron claimed that his proposals could unlock £1bn of spending power, but the parties rejected his plan.
Although the Northern Ireland talks process and the financial package are not part of the Joint Ministerial Committee agenda, it is expected both issues will be raised.
The prime minister will host Peter Robinson, Martin McGuinness, Scotland First Minister Nicola Sturgeon and Carwyn Jones, first minister of Wales.
'Crunch time'
Politicians from the Westminster government will include Home Secretary Theresa May and Leader of the House of Commons, William Hague.
The meeting will consider constitutional issues, the economy, how to combat extremism and how to improve relations across the UK.
It will also mark the first occasion that Mr Cameron has met Ms Sturgeon since she became Scotland's first minister.
This week has been billed by the Northern Ireland Secretary Theresa Villiers as a crunch time for cross-party talks in Belfast and she said she believes a pre-Christmas deal is crucial.
She is concerned that unless a deal is agreed this week, the House of Commons will run out of parliamentary time to give the Northern Ireland Executive corporation tax powers before the 2015 general election.
The talks involving the British and Irish governments and the Northern Ireland parties will formally recommence on Wednesday.