Microchips to be the only means of legally identifying NI dogs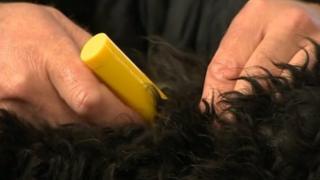 Changes to Northern Ireland's dog licensing regulations mean that microchipping will be the only official means of identifying dogs from 1 January 2015.
Coloured tags issued by local councils are being discontinued.
Owners must still ensure that their name and address is inscribed on the dog's collar or on a tag attached to it.
They must also ensure their microchip contact details are up to date.
Agriculture Minister Michelle O'Neill said microchipping was "a compulsory part of dog licensing, and following consultation with council chief executives, it was agreed to discontinue with the coloured tag issued with a dog licence or upon licence renewal".
Mrs O'Neill said the measures were intended "to ensure responsible dog ownership, and so that you are quickly reunited with your dog should it go missing".
The Dogs Trust, in conjunction with local councils, will be launching a campaign to assist dog owners to update their contact details on microchip databases for free.
Northern Ireland was the first part of the UK to introduce compulsory microchipping of dogs, in 2012.