Northern Ireland talks need dose of realism - Danny Kennedy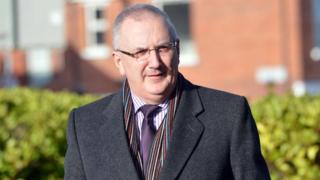 Ulster Unionist Danny Kennedy has said unless there is a "dose of realism" inter-party talks "are going nowhere".
He was speaking as discussions continue at Stormont House over finance, welfare reform and other unresolved issues.
On Tuesday night, Sinn Féin presented a paper on welfare reform rejecting all changes put forward by the government.
Sinn Féin sources said their document is designed to protect the most vulnerable, but other parties described it as unaffordable and unrealistic.
Civil servants are working on a detailed costing of the Sinn Féin proposals.
Some Stormont sources suggested their plans could cost at least £350m.
The Sinn Féin document includes a rejection of the UK government's £26,000 benefit cap and also rejects any reduction to disability living allowance.
It is believed to include eligibility to benefits for migrant workers and calls on the government to refrain from making further changes to the welfare system in Northern Ireland.
Sinn Féin MLA John O'Dowd said: "In terms of welfare, Sinn Féin has made its choice. We make no apologies for standing up for the poor, the unemployed and the most vulnerable in our society."
He said that the success of the talks "depends on David Cameron's Tory government bringing forward realistic proposals for a significant financial package".
In a reference to the Labour Party manifesto of 1983 Mr Kennedy, the regional development minister, described Sinn Féin's plans as the "second longest suicide note in history".
'Tory dogma'
The SDLP's Alex Attwood said there was a 40% chance of a talks deal.
He said his party had sent a document to the government, which he claimed was not listening when it came to the issue of welfare.
He accused the government of being "obstinate" and of not having a "proper conversation". He said they had to "get their act together".
The West Belfast MLA added: "If London continue to serve up Tory dogma in response to good argument about need in the north, then it is hard to resolve this issue."
On Wednesday morning, party delegations held discussions about finance and later the British and Irish governments held more talks with the parties.
The negotiations broke up without agreement last Friday.
The Irish Prime Minister Enda Kenny has accused Sinn Féin leader Gerry Adams of preventing Northern Ireland Deputy First Minister Martin McGuinness reaching a deal on welfare reform.
This charge has been rejected by Mr McGuinness as "laughable".
The British and Irish governments decided last week that there was not enough consensus on issues like finance, welfare reform and the legacy of the Troubles.
David Cameron offered the Northern Ireland parties what he described as £1bn of extra spending power.
The offer was dependent on them reaching a deal on welfare reform, the budget and a series of other issues.
However, the Northern Ireland parties rejected the prime minister's offer.
Since then there has been no sign of the gap being bridged, with Sinn Féin calling Mr Cameron a "penny-pinching accountant" and Ms Villiers describing comments by Mr Adams as arrogant.
Despite that, the negotiators will return to the talks table on Wednesday, with the government warning that the stakes are high and if there is no deal before Christmas the opportunity could be lost for months or even years.
The cross-party talks, which began in October, have concerned disputes on flags, parades, the past and welfare reform.