Belfast safety centre could close over budget cuts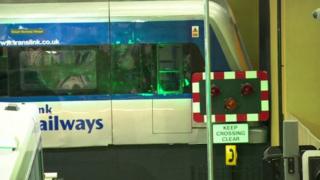 A new £1m safety centre in Belfast may have to close its doors before they have ever opened to the public.
The centre, in the Harbour Exchange area, is aimed at helping children and young people recognise and avoid everyday dangers.
The building has been completed, but there is a lack of funds for staff.
PSNI Ass Ch Con Alistair Finlay said it would have to be "mothballed" unless money was made available to pay annual running costs of more than £300,000.
The centre is called RADAR, which stands for Risk Avoidance and Danger Awareness Resource.
It includes an indoor street and is aimed at helping children and young people recognise risks on the roads, at railway crossings and in their homes.
The plan is for about 26,000 young people to pass through the centre's doors each year.
But the plan has been put on hold as budget cuts mean there is not enough money to recruit and pay the eight staff needed to run it.
"The bottom line is that we have managed to build this, but the budget cuts imposed on the PSNI means we no longer have the funding to enable us to pay for the staff who would take the young people and children through this centre," said ACC Finlay.
"Unless we can resolve some of our funding difficulties in relation to this, this will become mothballed.
"It would be a shame if we cannot make this centre available to help keep children and young people safe."