Northern Ireland economic review of 2014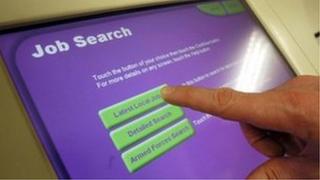 Northern Ireland showed signs of economic recovery in 2014 but austerity in public finances is only beginning.
It was in the job market that the signs of recovery were clearest in 2014.
The number of people claiming unemployment benefit was down by nearly 9,000 while the number of employee jobs was at its highest level since 2009.
The services sector has recouped almost all the jobs lost during the recession. By contrast, construction jobs are about 35% below the boom time peak.
The view among most economic forecasters is that this will translate into economic growth of more than 2% in 2014, the best performance in years.
There was also a series of major job investments supported by Invest NI, including more than 800 posts at PwC in Belfast and almost 500 at First Derivatives in Newry.
The Invest NI performance was somewhat flattered by a change in EU grant aid rules in June.
That meant a rush to get a large number of projects signed off before the tougher regulations took effect.
Nonetheless, it will mean a pipeline of good quality job opportunities over the next few years.
Full-time earnings
But what people are paid when they are in work continued to be a problem in 2014.
The earnings of a typical full-time employee in Northern Ireland fell by 1.4%, according to the official Annual Survey of Hours and Earnings.
As people who have just entered the workforce tend to be on lower wages, the survey also looked at full-time employees who had been in the same job for at least a year.
Workers in that category saw their annual earnings grow by 0.3%, which was still below the rate of inflation.
So it is hard to see how consumer spending can contribute much more to growth unless 2015 becomes the year of the pay rise.
Some companies have already taken the plunge - Ulster Bank and Bank of Ireland both returned to profit and their staff will be rewarded with the first pay rises in five years.
Ulster Bank, the biggest local lender, seems to be finally emerging from a crisis era with its parent company RBS committing to supporting an all-Ireland bank.
There were continuing echoes from the banking crisis as two former Anglo Irish bank executives were found guilty of making loans designed to illegally prop up the bank's share price.
Pat Whelan and Willie McAteer were convicted at Dublin's Criminal Court in April while the bank's former chairman, Sean FitzPatrick, was cleared.
The effective collapse of Anglo Irish in 2009 was a major factor in creating an age of austerity in the Republic of Ireland.
The governing coalition in Dublin attempted to declare that era was at an end in 2014.
A strong economic performance meant no further austerity measures were introduced in October's budget and the top rate of tax was cut from 41% to 40%.
Voters were not convinced and anger over the introduction of water charges saw the coalition plunge in the polls.
Closer to austerity process
But in Belfast ministers find themselves closer to the beginning of an austerity process.
The DUP and Sinn Féin agreed a draft budget in October after much political wrangling and a £100m loan from the Treasury.
But with a reduced block grant from Westminster and years of pressure building up in the system it will means cuts in jobs and services across the public sector.
Ministers have sketched out a future that involves longer hospital waiting lists, crumbling schools and unlit streets.
2014 was also marked by two things that did not happen: Corporation tax powers were not devolved and interest rates did not rise.
But the deal between the Stormont parties now makes corporation tax devolution almost certain in 2015.
'However, with UK inflation at just 1% and the price of oil forecast to stay down, an interest rate rise looks much less likely.