NI 1985/1986 state papers: George Seawright 'caused problems for NIO' 1985 papers say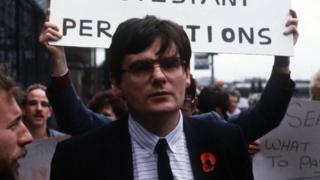 The late DUP councillor George Seawright, who once said Catholics and priests should be burned, caused problems for the NIO in 1985, according to newly released archive papers.
It was a time when the government did not have normal contacts with Sinn Féin due to its support for violence.
Therefore, Mr Seawright's presence on unionist deputations posed a particular problem for the authorities.
The issue was raised in a memo to officials on 16 April 1985.
"The main point at issue was whether it was right to treat Mr Seawright in the same fashion as Sinn Féin," N D Ward of the NIO said.
"On the one hand, Mr Seawright's comments were despicable by any standards. He had advocated violence and, therefore, ministers had not wished to deal with him.
"On the other hand, although there were some familiarities with Sinn Féin, there were problems about linking his treatment formally with Sinn Féin.
"Mr Seawright is a maverick and, some would say, a nutcase, but he is not a subversive in the Sinn Féin sense and to treat him on a par with Sinn Féin and refuse to see him as part of a delegation might only seem to enhance his standing in some quarters."
In the end, the secretary of state, Tom King, decided that "on balance, ministers should seek to avoid Mr Seawright's company.
"In doing so, they should not provoke controversy or openly challenge his right to attend meetings as part of a delegation. However, requests for him to lead a deputation to ministers should be rejected," he added.
The Glasgow-born Belfast councillor's sectarian comments led to his expulsion from the DUP and a three-month suspended sentence by the courts.
The Shankill-based councillor was shot dead by the Irish People's Liberation Organisation (IPLO), a republican splinter group, in November 1987.