NI state papers 1985/86: McGuinness anger at Garret FitzGerald Londonderry visit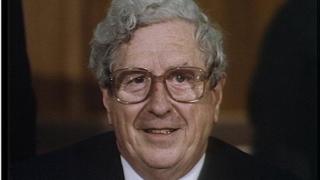 A surprise pre-election visit to Londonderry by the Irish prime minister was severely criticised by Martin McGuinness in 1985, according to declassified papers.
Taoiseach Dr Garret FitzGerald visited Derry on 30 April 1985.
Public records office papers reveal that Sinn Féin dismissed the visit as a "pro-SDLP election stunt".
A memo to senior staff at Stormont said the visit prompted an angry response from the party.
Sinn Féin made it clear that the Dublin government was not welcome in Northern Ireland, the memo said.
The memo, dated 1 May 1985, was written by S G Hewitt from the Northern Ireland Office's political affairs division.
The writer noted: "For Sinn Féin, Dr FitzGerald's visit could not have come at a worse time as it coincided with the launch of their election manifesto in Belfast.
"On top of this, the Taoiseach's unequivocal remarks about his government's support for constitutional nationalism guaranteed an angry response from Sinn Féin."
Martin McGuinness, who is now Northern Ireland's deputy first minister, was at that time, critical of press photographs of Dr FitzGerald shaking hands with an RUC officer.
He was reported as saying: "The image of SDLP supporter Garret FitzGerald shaking hands with a loyalist gunman should stick in the minds of nationalists as they go to the polls on May 15 [for the NI local government elections]".
Hewitt's conclusion was that, given Sinn Féin's reaction, the visit was likely to boost the SDLP's prospects in the elections.