Bernard Murchan fined £10K for Mullaghbawn illegal meat plant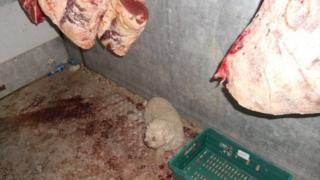 Pictures released by a council show how a dog was found eating raw meat being prepared for the human food chain in an illegal County Armagh butchery.
Bernard Murchan, 59, of Back Road, Mullaghbawn, who owned the premises, was fined £10,000.
He pleaded guilty to ten offences relating to breaches of food safety regulations.
Newry and Mourne Council, which took the case, said conditions in the facility were "filthy".
Mr Murchan was caught when police visited the shed in October 2012.
Environmental health officers called to scene found several beef carcases hanging in a makeshift butchery and cold room.
"The premises, food contact surfaces and equipment were found to be in a filthy condition with decaying food debris and blood," said Eoin Devlin, the council's assistant director of environmental health.
"The premises was not adequately pest proofed and a dog was observed accessing the food handling areas, feeding off the decaying food debris and rubbing against the meat carcases."
Seized and destroyed
"There were no facilities for the washing of equipment and hands."
All the meat was seized and destroyed. The council said there was evidence that it was being supplied to markets in the Republic of Ireland.
The beef was properly stamped and documentation was seized that allowed council officials to trace the supply back to source.
A cross border investigation was started involving the Food Standards Agency in Northern Ireland and the Food Safety Authority of Ireland. This led to meat from the illegal plant being taken out of the human food chain.
As well as the fine, Mr Murchan was ordered to pay £1,000 in costs when the case was heard at Newry Magistrates Court on Monday.