David Cameron 'did not leave NI talks early for wife's birthday party'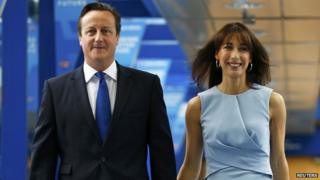 Downing Street has rejected suggestions that the prime minister left talks in Northern Ireland early last week so he could attend his wife's birthday party.
The Labour party has claimed David Cameron has "serious questions to answer" about his "abrupt departure".
Mr Cameron flew to Northern Ireland last Thursday for all-party talks but left on Friday morning without a deal.
However, a Downing Street spokesperson utterly rejected claims that the move was in any way connected to the party.
'Ibiza-style rave'
Mr Cameron's wife, Samantha, celebrated her birthday at the prime minister's country residence at Chequers last Friday night.
Labour has described the event as an Ibiza-style "rave" party.
The Daily Mail reported that several celebrities had been invited, including the actress Helena Bonham-Carter, the comedian Harry Enfield, and the Top Gear presenter Jeremy Clarkson.
Shadow Secretary of State for Northern Ireland Ivan Lewis said: "I have no problem with David Cameron attending a family celebration.
"However, his unwillingness to remain in Northern Ireland for a longer period in order to broker progress, caused serious concern at the time."
'Fragile time'
The political talks in Belfast are aimed at resolving outstanding disputes over flags, parades, the legacy of the Troubles and welfare reform.
Mr Lewis added: "This is an incredibly fragile time for political stability in Northern Ireland and the prime minister had a duty to either stay the course or visit at a time when he could give the situation his fullest attention.
"He now has serious questions to answer about whether he was less than truthful about his reasons for an abrupt departure, which made an already fraught situation worse."
'Joint decision'
However, the Downing Street spokesperson said Mr Cameron's decision to leave the talks was made jointly with Irish Prime Minister (Taoiseach) Enda Kenny.
They added it was made solely on the outcome of the talks up to that point, and on the situation that confronted both prime ministers.
Mr Cameron returned to England after Northern Ireland's five biggest political parties rejected his offer of a new financial package to address Stormont's current budget difficulties.