Housing complex is tailored for living with dementia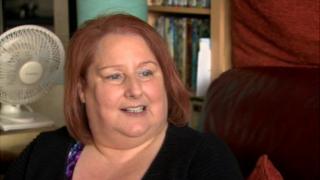 A Belfast woman diagnosed with dementia says the government must prioritise building more modern homes for people with the condition so they can continue living independently.
Twenty thousand people in Northern Ireland are living with dementia.
That number is expected to rise to 61,000 by 2051.
Liz Cunningham, 53, is one of the growing number of younger people who are receiving this shocking diagnosis.
"It started when I was in my mid-forties. I could no longer write reports. My memory was gone. I just couldn't function. One day I came out of the ladies' toilets and couldn't get back to my office," she said.
Diagnosis rate
Northern Ireland has one of the highest rates of diagnosis in the UK, and according to Liz, the diagnosis is devastating for everyone in the family.
"I was at the heart of the family, people came to me. Then I had to retire early. I once worked with vulnerable adults, all of a sudden I became the vulnerable one."
Liz withdrew from life and did not speak for months. Like many who are told they have the condition, she became depressed.
Things took a positive turn when the family were directed to Hemsworth Court on the Shankill Road in Belfast.
Through her care team at the Belfast Health Trust, Liz and her husband discovered somewhere they could live independently, but where 24-hour help is only a call away.
Hemsworth is a partnership between Helm Housing Association and the Belfast Health Trust.
There are 35 apartments, each with either a garden or a balcony. Couples can continue living together or, if required, a carer can also move in as there are two bedrooms.
The development is aimed at enabling tenants to achieve maximum independence, and to maintain the skills and confidence to continue to live independently within the community for as long as possible.
Manager Olivia Clarke explained the adaptations made for people with dementia.
"We have specific signage or memory aids signposting people to where they live. For example, while each apartment has a number it also has a motif, or picture, which acts as a memory jogger for those with dementia," she said.
Liz and her husband, Philip, sold their home in order to fund this care package. The service is means-tested.
"There is life after a dementia diagnosis," she said.
"I feel I have a front door to close, it's mine. It has raised my confidence levels so much that I actually feel human again. I can also go out shopping on the Shankill Road. If I get lost I know I will be brought back home to Hemsworth," she said.
"If I had been put into a nursing home I wouldn't be here. I'm too young for a nursing home."
Beacon of hope
While Hemsworth Court is being seen as a beacon of hope, there is less optimism about any similar homes being built in the near future.
The building itself cost £4m. Helm Housing Association said they would love to roll out similar homes for those with dementia, but money is scarce.
Kieran Walsh, of Helm, said: "This is a model that needs to be rolled out across Northern Ireland.
"But there are funding issues. The level of grant we received to build this several years ago is certainly no longer available at the same level today."
Experts in dementia believe somewhere like Hemsworth offers long-term savings for the health service. Round-the-clock care reduces the risk of those with dementia requiring care in hospital.
That is recognised by Helm. Mr Walsh said it would be positive if such schemes were prioritised.
"There are long term savings, once it's built, and a health trust looks after the care. People with dementia are living and receiving care under one roof. There are fewer staff required to look after people. It must have long-term savings."