Addiction: Southern Health Trust service helps addicts' families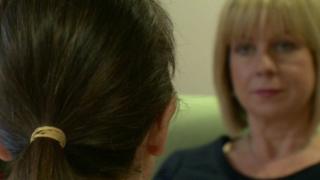 Addiction is a blight on society. It is a curse that can destroy an addict's life, but also their families or loved ones who try to help.
One in five people is affected by someone else's substance misuse, either directly or indirectly.
The Southern Health Trust recognised the problem and decided to tackle it head-on.
The early intervention team has helped 164 families in 2014.
It is a unique service within Northern Ireland's five health trusts as it targets the relative or loved one as opposed to the person with the addiction.
'Devastating'
Kathleen, not her real name, agreed to talk to the BBC about her experience with the intervention team.
Her relative was addicted to alcohol. The impact on the home, according to Kathleen, was devastating.
"There was so much tension at home and unpredictability. You didn't know what each day would bring. We were all afraid," she said.
The abuse of alcohol continued for several years.
"I was making sure there was nothing about the house that could be of danger to them. I was watching them every minute but at the same time trying to comfort them."
Christmas can be particularly challenging for families affected by drugs and alcohol, but the Southern Health Trust's early intervention team is there to help.
Fiona Kelly is a practitioner with the Southern Trust.
"At Christmas time alcohol consumption increases by 40%. So there are more parties, more going out and that in turn affects the relative of the person who is abusing alcohol," she said.
The initiative has been running for 18 months. Fiona says they are delighted that the service is doing good.
"It's a huge issue. For every one person that drinks heavily four people are affected by it."
Kathleen has been at the coalface. She has lived through it, and come out the other end.
"I couldn't eat, I had lost my appetite and lost a lot of weight. I wasn't sleeping. I was stressed, worrying myself sick. The constant sense of dread was alarming - so I became a victim as well."
Relief came when Kathleen contacted her local health trust. Within weeks there was light at the end of a very dark tunnel.
"It was a godsend. For the first time someone was listening to me. Worrying about me - how I felt, how I was coping, how I was affected by it all. I became stronger and was able to help my relative and everyone else at home."
Families can be referred by their GP or any other health care professional. The service aims to be accessible to parents, spouses, or any other relative affected by addiction.
Power of addiction
Kathleen said the service helped her understand the power of addiction.
"I thought it was just a case of saying 'pull yourself together'. It's not. But now after many months I'm back to being myself," she said.
"I am so proud of my family member who was drinking. But I'm also proud of myself because I made it through the programme, followed it through to the very end. We all did as a family."
The early intervention team at the Southern Health trust can be contacted on 028 37 41 2878.