NI welfare system: What changes are proposed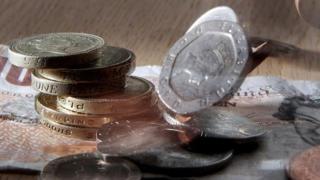 The welfare system in Northern Ireland is legally and practically a devolved matter.
However, something called the "parity principle" applies by which welfare benefits have always mirrored those paid in the rest of the UK.
If Stormont breaks from that principle by paying more generous benefits, Westminster can impose a corresponding cut to the block grant that funds public services.
Any changes made in Westminster have, until now, effectively been rubber stamped by the assembly.
However, Sinn Féin and the SDLP were opposed to the radical changes in the Welfare Reform Act 2012.
The main changes are the introduction of Universal Credit (UC) - a new benefit that combines in and out of work benefits, mainly JSA, Housing Benefit and Tax Credits.
The Personal Independence Payment (PIP) which replaces Disability Living Allowance (DLA). 1 in ten of the population in Northern Ireland are in receipt of DLA.
Benefit cap
Changes to the Housing Benefit which restrict payments to allow for one bedroom per person or per couple, and is dubbed the "bedroom tax" by its critics.
The introduction of a benefit cap means an out of work family could not get more than £25k a year.
The executive negotiated some flexibilities with the Department of Work and Pensions.
These include:
UC could be paid fortnightly rather than monthly and could be split between two bank accounts
The housing element of UC would continue to be paid direct to landlords.
The executive would set aside £17m (initially) to prevent housing benefit payments falling for 'over-occupiers' until such time as they are offered "suitable alternative accommodation." Some new tenants would also be able to "over occupy".
The maximum punishment under the tougher new sanctions regime would also be less in Northern Ireland.
There would also be greater protection given to single parents who cite lack of child care as a reason for not taking up offers of work or training.
More money would be made available for medical reports as part of the PIP decision making process.
Sinn Féin opted not to do a deal on this basis. It has been alleged that Martin McGuinness wanted to but could not convince other senior party members.
A Sinn Féin paper published earlier this week continued to take a tough line - rejecting the benefit cap and have no reduction in the current DLA success rate (DSD research suggested the success rate would fall by as much as 50%).
The 2015/16 draft budget assumes a deal on welfare will be done and sets aside £70m for implementation.