Dalriada Hospital: Public consultation on closure halted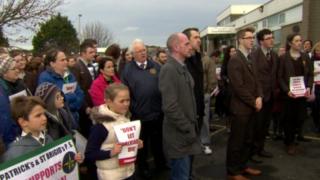 A public consultation on the temporary closure of services at Dalriada Hospital, County Antrim, has been halted due to a court challenge.
The small hospital in Ballycastle is home to Northern Ireland's only multiple sclerosis respite unit.
In October, the Northern Health Trust said the unit would close temporarily, shortly before the health minister said Dalriada would not admit new patients.
However, the minister's decision was overturned by a judge on 4 December.
Temporary reprieve
The ruling followed a legal challenge taken by an MS patient, Philomena McKay, who is campaigning against the proposed closure.
Campaigners said the non-admission policy was a means to bring about the closure of the hospital.
Ms McKay has asked for a judicial review of the decision to withdraw services at Dalriada.
Earlier this month, a High Court judge ruled that the hospital must continue to accept new patients until the judicial review is heard in full.
It resulted in a temporary reprieve for Dalriada's patients and for the Save The Dalriada campaign group (Save the Dal).
'Nonsensical position'
On 2 December, weeks after the temporary closures had been announced, the Northern Health Trust began a "retrospective" public consultation on the proposals.
However, in light of the judge's 4 December ruling, the trust said it has now been "instructed to discontinue" the consultation process.
In a statement to the BBC Evening Extra programme on Friday, the trust said: "Following the outcome of a judicial review hearing awarding interim relief, the trust is reinstating the services at Dalriada Hospital, pending further determination during the judicial review process."
Dr Réamaí Mathers, who chairs the Save the Dal campaign, said the group was "delighted with this announcement".
"The trust found themselves in the nonsensical position of continuing a retrospective closure of The Dalriada Hospital after a judicial review had found their actions unlawful," the doctor added.
'People power'
North Antrim Sinn Féin MLA Daithí McKay also welcomed the trust's decision to discontinue the consultation.
"Today is a great victory for the people of Ballycastle and the Save The Dal campaign.
"The past two months demonstrated that people power has made the health minister do a U-turn on the closure of this vital rural service."
However, Mr McKay added that "the fight must continue" to ensure that the Dalriada hospital "continues to serve this community for the foreseeable future".