Sixty jobs lost as not-for-profit takes over Belfast leisure centres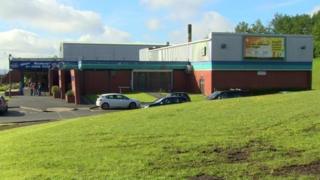 Sixty jobs are being lost at 10 Belfast City Council leisure centres, which from next year will be run by a not-for-profit operator.
London-based Greenwich Leisure Limited (GLL) will operate the venues.
It will take over the facilities from 1 January, with 60 of the existing leisure centre staff taking voluntary redundancy after union negotiations.
Two hundred and fifty staff will transfer to the new operator.
GLL said it would review existing membership and admission prices after nine months.
The council will still retain ownership of the buildings and will have a say in admission prices and opening hours in partnership with GLL in a new trust, Active Belfast Leisure Ltd.
The move is designed to save the city's ratepayers £2m a year on leisure services - currently it costs them £8m.
The council is taking a £105m loan to refurbish its leisure centres, starting with Olympia in south Belfast.
"As a non-profit organisation, our main objective is to increase sports, health and physical activity in the city," said Mark Sesnan, GLL's managing director.
"The partnership means we can provide cost-efficient savings to the council, but it also means we can continue to offer first-class affordable leisure facilities."
GLL already operates more than 140 sports and leisure centres in England and Wales, many in conjunction with local authorities.