Stormont Agreement: Sinn Féin ard chomhairle ratifies document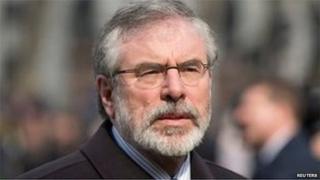 Sinn Féin's ard chomhairle (party executive) have ratified the Stormont Agreement.
The five main executive parties reached broad agreement on 23 December on a number of key issues.
Sinn Féin members met in Dublin on Monday to discuss the document.
Party president Gerry Adams said the executive recognised that progress had been made in defending the most vulnerable against "Tory welfare and budget cuts".
"They also recognised that progress has been made with regard to the issues of flags, the past and parading," he said.
"The ard chomhairle accepted that there was more to do at a community, political and national level to resolve these matters.
"The ard chomhairle remains concerned that the governments had failed to deliver on their outstanding commitments including a bill of rights, acht na Gaeilge, and an inquiry into the killing of Pat Finucane and other outstanding matters.
"The recent talks demonstrated that with the five main parties acting together, significant progress can be made to safeguard the most vulnerable and to rebuild the reputation of the political institutions."
Following the talks, DUP leader Peter Robinson said he would be recommending the document to his party executive.
Ulster Unionist leader Mike Nesbitt said he would ask his own party to give the agreement "a fair wind".
The SDLP said they were disappointed and Alliance said it fell short of what was needed.
The talks on welfare reform, the past, flags and parades lasted 12 weeks.
Former US diplomat Richard Haass chaired cross-party talks a year ago on the issues of flags, parades and the past. Those talks broke up without any resolution.