Causeway Hospital: Staff illness delays cancer test results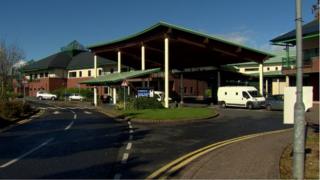 Northern Ireland's health minister has been asked to address concerns over cancer test delays due to staff illness in the Northern Health Trust area.
The Causeway Hospital in Coleraine, County Londonderry, has two urology consultants but both are off sick.
Sinn Féin's Oliver McMullan said several patients have contacted him in distress over the delay in accessing cancer biopsy test results.
The minister said other health trusts would provide support for emergencies.
'Extremely unfortunate'
Mr McMullan, who has recently received treatment for prostate cancer himself, told the BBC's Evening Extra programme that the two consultants have been off work from the beginning of December.
The Sinn Féin MLA said the health authorities have had almost a month to "get a replacement in to get the results out to the patients who are waiting for their diagnosis - whether they are positive for cancer or negative.
"Because if they are positive, it's imperative that their treatment starts immediately," he added.
Mr McMullan has raised the issue of urology waiting times and staff shortages before, speaking publically about delays in his own treatment in February.
In a statement to the BBC on Tuesday, Health Minister Jim Wells said: "It is extremely unfortunate that both urology consultants at the Causeway Hospital have fallen ill at the same time.
'Urology network'
"The Health and Social Care Board is working with the Western and Belfast Trusts to ensure there is support for urological emergencies and specialist urology input for patients in the Northern Trust.
"As part of the team Northwest Urology Programme, the Western Health and Social Care Trust has already been working in partnership with the Northern Health and Social Care Trust for some time to create a urology network and they will enhance this existing arrangement until such time as the consultants are able to return to work."