West Belfast: Paint attack treated as hate crime say PSNI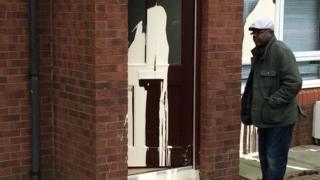 A house that was damaged in an overnight attack in west Belfast is being treated as a hate crime, police have said.
It happened some time between 22:00 GMT on Saturday evening and 08:00 GMT on Sunday morning at a property in Upper Townsend Terrace.
Paint was thrown over the windows and doors of the house.
The man who lives in the house is a foreign national from Ghana.
Sgt David Byrne said police were treating the incident as a hate crime and appealed for witnesses.