Belfast: Jail for designer jeans thief with 233 convictions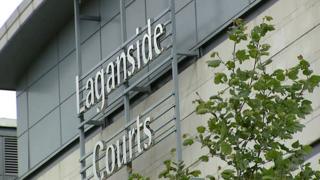 A 35-year-old man who stole designer jeans from a Belfast shop to sell to support a drugs habit has been sentenced to 21 months in jail.
Terrence Paul Maughan, whose address was given as Maghaberry Prison, stole jeans worth £600 from the House of Fraser store in Belfast.
Belfast Crown Court heard Maughan had 233 previous convictions.
A judge described his criminal record as "appalling."
Maughan is expected to serve half of his sentence in prison, with the remaining months on supervised licence.
A prosecution lawyer said that on 21 February 2013 Maughan came to the attention of security staff in the store.
He left the shop and was chased by security staff who recovered all six stolen items.
He escaped but police recognised him in CCTV footage. The lawyer said Maughan "fully and freely" admitted the theft and said he wanted to sell the jeans to buy drugs.
A defence lawyer said that at that time, Maughan was living a transient lifestyle between Belfast and Dundalk.
He said that his brother had died suddenly and this caused Maughan to "go completely off the rails".