MLAs to elect a new Assembly speaker next week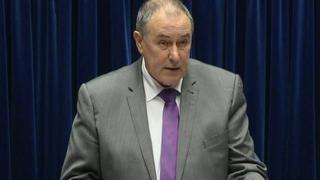 MLAs will elect a new speaker at the start of Northern Ireland Assembly proceedings next week.
Principal Deputy Speaker Sinn Féin's Mitchel McLaughlin is expected to be the successful candidate.
The DUP's William Hay retired as speaker in October 2014 due to ill health.
The two biggest parties previously agreed that Sinn Féin would take over the speaker's role half-way through the current Assembly term.
However, the DUP delayed backing Mr McLaughlin, linking his election to a successful resolution of the dispute over welfare reform.
When questioned on Monday about the speaker's replacement, First Minister Peter Robinson said he was glad that the welfare reform stand-off had been "so expeditiously" resolved.
It is understood that members of the Stormont business committee agreed that the election of a new speaker should be the first item on the agenda next Monday.