HIA: Pensioner tells of sex abuse and beatings at Nazareth Lodge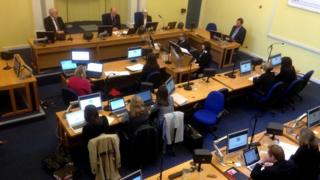 An 89-year-old man has described how he was sexually abused by teenage boys and beaten by nuns at Nazareth Lodge home in Belfast.
He is the oldest witness to appear before the Historical Institutional Abuse in Banbridge, County Down.
The man, who appeared in a wheelchair, said he was just three years old when he arrived at the home.
He talked about being attacked. But he also said that as an adult he had a good life and was "free as a bird".
The man said his father had abandoned the family and his mother left him at the home. She wanted to get an education in the hope that her family would have a better life, he said.
The inquiry is examining claims abuse at Nazareth House and Nazareth Lodge in Belfast. The homes were run by the Sisters of Nazareth, who have repeated an earlier apology to all abused in their care.
The pensioner said he was abused by older boys in the showers at the home while the nuns were praying or having meals.
He never told his mother about the sex abuse "out of respect for her", he said.
He was also beaten by some nuns.
"Through my life, the memories never left," he said.
But he told the inquiry that, as an adult, he had gone abroad and had had success in his working life.
"Later in life, I was a bird. I was free to do what I wanted to do," he said.
He also paid tribute to his late mother who, he said, "worked so hard and tried so hard".
"I think of her everyday and of all the people who helped me improve my life," he told the inquiry.
The latest module, focusing on the two Belfast homes, is the single biggest module of the inquiry, in terms of the number of witnesses who have come forward to given evidence about their time in the care of the nuns.
A total of 102 witnesses have come forward in relation to Nazareth House and Nazareth Lodge.
More than 90 are expected to give evidence over 40 days of hearings at Banbridge Courthouse, County Down.
The HIA inquiry was set up in 2013 to investigate child abuse in residential institutions in Northern Ireland over a 73-year period, up to 1995.
Thirteen Northern Ireland institutions are being investigated.