On the Runs hearing: Former PM Tony Blair to appear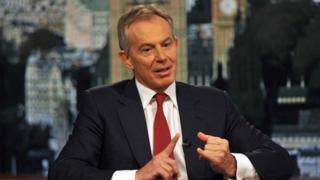 Former prime minister Tony Blair has said he will give evidence to the Westminster committee investigating the On The Runs scheme.
Under the On the Runs (OTRs) scheme, letters were sent to more than 200 republican paramilitary suspects.
The scheme, which was set up in 1999, informed them that they were no longer wanted by police.
Two government officials due to appear on Wednesday will not now appear at the Northern Ireland Affairs Committee.
The On The Runs scheme only came to public attention last year when one of the letters caused the Hyde Park bomb trial to collapse.
The scheme began while Mr Blair was prime minister. It was set up following talks with Sinn Féin.
Mr Blair will appear before the committee next Tuesday afternoon.
There had been speculation that the two government officials would not appear before MPs on Wednesday.
Earlier, the committee's chairman Laurence Robertson, said he had not been told officially that the officials would not be appearing.
One of the Northern Ireland Office (NIO) civil servants who was due to attend is believed to have signed the letter that led to the collapse of the Hyde Park trial.
Mr Robertson said it would be in their interest and in the governments for them to attend.
Mr Robertson said the committee could take action if the pair did not attend.
"We could refer them to the Standards and Privileges Committee who could consider the matter with the ultimate sanction of being named as being in contempt of parliament," he said.
"Now that would not be a good place for them to be in.
"It would be unfortunate if they got to that position because they were blocked by other people from attending so it is really not a good situation.
"I am taking a lot of advice on this and speaking to the relevant people. It would be far easier for them to come and to discuss their part, their role that they played and go from there."
Secretary of State Theresa Villiers has said she is willing to appear before the committee again, and to invite the two former NIO officials to attend with her.
An Northern Ireland Office spokesperson said Ms Villiers had written to the committee.
"This letter states that while the government fully respects the rights of the committee to inquire into any matter of its choosing and seek evidence where it wishes, it is an important point of principle that it is ministers rather than officials who are accountable to parliament for the policies, actions and decisions of their departments," the statement said.
"However, in the light of the committee's latest request, the secretary of state has indicated that she would be willing to appear again alongside Sir Jonathan Stephens, and she will also invite the officials that the committee have asked to see to attend with her."