Michaella McCollum: Further step taken in Peru prisoner repatriation bid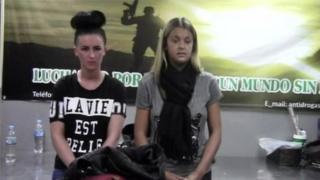 The Northern Ireland Prison Service will co-operate in the proposed repatriation of a County Tyrone woman convicted of smuggling drugs in Peru.
Michaella McCollum from Dungannon was jailed in Peru in 2013, along with Melissa Reid, from Lenzie in Scotland, for trying to smuggle £1.5m of cocaine.
They were sentenced to almost seven years in jail but have requested transfers to prisons in the UK.
Any repatriation is dependent upon the approval of the Peruvian authorities.
'Complicated process'
McCollum's solicitor received a letter from Northern Ireland's Department of Justice on Christmas Eve, confirming that all paperwork and protocols that they are required to submit to Peruvian authorities as part of the repatriation request have now been completed.
He said it marked the completion of another stage in the process but it would now be up to the Peruvian Ministry of Justice to approve and arrange the prison transfer.
The lawyer added that it was a complicated process that was likely to take "a number of months".