HIA inquiry: Boy 'scalded after care home assault by nun'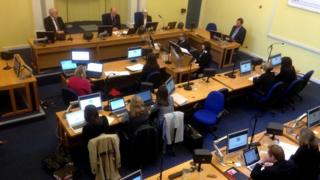 The Historical Institutional Abuse Inquiry has been told that a young boy was scalded by boiling water after being assaulted by a nun at a Belfast children's home.
The victim was praised by the inquiry's chairman for making "considerable physical effort" to give evidence.
The inquiry is examining abuse claims at Nazareth House and Nazareth Lodge.
The homes were run by the Sisters of Nazareth, who have repeated an earlier apology to all abused in their care.
The inquiry's chairman, Sir Anthony Harte, said the victim, now an elderly man, has just been discharged from hospital but was "determined to come".
'All over my body'
During his testimony, the witness described being assaulted by a nun with a jug of boiling water when he arrived home late.
"She hit me across the face with her crutch," he said.
"The boiling water from the jug went all over my body and hands and scalded me."
He added that he was taken to the Mater Hospital and "kept in for two or three weeks".
The inquiry heard that the witness was also sexually abused by older boys while in care at the home.
'Most sincere apology'
He was taken into care at the age of two, in 1943, and spent 10 years in the home.
The Sisters of Nazareth have offered the pensioner an "unreserved and most sincere apology".
More than 90 are expected to give evidence over 40 days of hearings at Banbridge Courthouse, County Down.