Malcolm Stevenson Belfast aerosol explosion charges withdrawn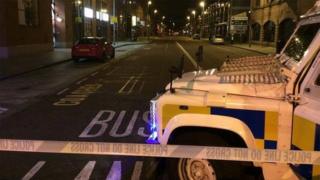 Charges against a man accused of causing a small explosion outside a shopping complex in Belfast city centre last August are to be withdrawn.
Malcolm Stevenson had faced prosecution for allegedly igniting an aerosol inside a rucksack at Victoria Square.
Belfast Magistrates Court heard charges of criminal damage endangering life and resisting police would be dropped.
The 47-year-old, of Templemore Street in east Belfast, had denied any involvement in the incident.
At a previous appearance, the court was told he claimed to have been at his tent in north Belfast at the time of the small blast.
Canisters
The bag containing two aerosols was said to have been placed against the doors of House of Frazer on the junction of Chichester Street and Victoria Street just after midnight on 5 August.
After it was set alight one of the canisters exploded, sending fire and shrapnel shooting towards the road.
No-one was injured and no damage was caused to property.
Prosecutors previously claimed CCTV footage showed a man monitoring the area around Victoria Square for more than an hour before the explosion.
He was seen igniting the bag at the entrance to House of Frazer before exiting up Chichester Street, the court heard at the time.
Two police officers were said to have identified Mr Stevenson as being the suspect.
He had been out on bail but banned from entering the centre of Belfast while criminal proceedings continued.
However, the prosecution announced in court on Wednesday that both charges would be withdrawn.