Floral Hall: Campaigners hope for venue restoration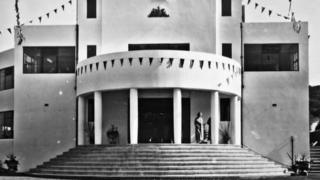 The Floral Hall is one of Belfast's most cherished venues, at least for a certain generation.
Remembered fondly for its dance hall days, music concerts and wedding receptions through the 1940s, 1950s and 1960s, it closed its doors to the public in the early 1970s.
Since then, it has been used for storing feed for the animals at Belfast Zoo.
Among the big names who played the Floral Hall were Lulu, the Small Faces and Pink Floyd.
Those campaigning for the restoration of the building, with its ornate grand ballroom, believe there may be light at the end of a very long tunnel.
Belfast City Council is currently considering the renovation of the hall, at an estimated cost of £5m.
Billy and Dorothy Logan were among the hundreds of thousands of people who flocked to the Floral Hall in the 1950s.
Mrs Logan says it was "a lovely place to be".
"It was a circular hall with a lovely crowd of people - the young men were always very well dressed as were the ladies" she says.
"The big band music was always enjoyable and I will never forget that big glitter ball shining down on us."
While the glitter ball has not shone down on anybody for decades, the Floral Hall made national news headlines again in 1973, when it was surrounded by barbed wire and armed soldiers after it was the designated counting centre for the Northern Ireland referendum on the Irish border.
Shane Quinn of Belfast Buildings Trust has been negotiating with its owners, Belfast City Council, over a possible renovation plan.
"Floral Hall is unique - it really is impressive in terms of built heritage across the island of Ireland," he says.
"It's one of Belfast's most important buildings, as it says something about the city that Belfast was at a certain point in time.
"It's also important in what it says about the character of the city during the Big Band era during the 1950s and 1960s."
SDLP councillor Claire Hanna is among those with a soft spot for the hall, but she says she realises the business plan must be sound before any restoration project proceeds.
"Fortunately, the building is structurally sound, but it does have an asbestos problem and that complicates things," she says.
"The good news is there's evidence that there would be a viable model to sustain it.
"There's no good investing a lot of money in something that would become a rates burden for the people of Belfast forever more, or that might once again fall into disrepair further down the line."
'Electric ducks'
Billy Logan says it is important not to overlook another important aspect of the hall - as it's located beside a pond in what was Bellevue Gardens, for many young men and women, it really was Belfast's Ballroom of Romance.
"The electric ducks were important," he says.
"You'd be dancing a nice slow waltz around the Floral Hall with a nice young lady friend and you would ask her if she fancied going outside to see the electric ducks?"
I asked Billy if there really were electric ducks in the moonlit pond. With a twinkle in his eye, he replied: "Well, there were electric lights."