A&E problems lead to 179 cancelled operations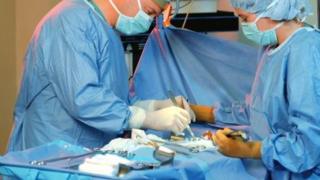 A total of 179 non-urgent operations have been cancelled in Northern Ireland as a result of the ongoing pressures affecting emergency departments (EDs).
The Health and Social Care Board has apologised to the patients affected.
It said a concerted effort continues to alleviate pressures, to ensure patients are not experiencing undue delays.
On Tuesday, the BBC revealed that, in an unprecedented move, some non-urgent surgery was being cancelled across all of the five health trusts.
'Exceptionally busy'
The measure is intended to help free up hospital beds and staff affected by pressures in the emergency departments.
The Belfast Health Trust announced it was postponing all routine surgery until Sunday 11 January.
According to Health and Social Care Board (HSCB) officials, this is an exceptionally busy time, with more than 4,900 people attending emergency departments over the past three days.
Some have applauded this move and others have criticised it as unnecessary.
'Regrettable'
The HSCB has apologised to patients affected by the cancellations and thanked its staff for their efforts.
Its director of performance management and corporate services, Michael Bloomfield, said: "The number of postponed procedures is regrettable for those affected and we apologise for this.
"Trusts will do all they can to ensure that those procedures postponed are rescheduled as soon as possible and those affected kept informed."
He added: "The board would like to commend those clinical and managerial staff who are working diligently to ease the pressures on our emergency departments as this continues to be a challenging week for them."