Charlie Hebdo attack: Vigil for Paris victims held in Belfast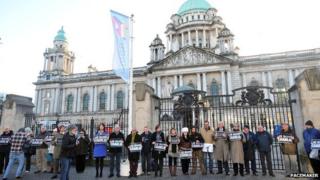 About 50 people have attended a silent vigil outside Belfast City Hall for the victims of the Paris attacks.
Gunmen shot dead 12 people at an office of French satirical magazine Charlie Hebdo in an apparent militant Islamist attack on 7 January.
Lord mayor of Belfast Nichola Mallon attended the vigil.
She said that the Muslim community should not be targeted because of the attack in France.
'Solidarity'
"If there is furthering discrimination and further hardening of hearts then that is a tragedy in itself," she said.
"The last thing that we need coming out of this tragedy is another tragedy, in terms of extremism, particularly towards members of the Muslim faith," she said.
The vigil in Belfast was organised by Amnesty International and the National Union of Journalists.
Patrick Corrigan of Amnesty International said: "We stand in solidarity with the journalists and police officers who lost their lives in Paris in defence of freedom of expression and a free press.
"This atrocity sought to kill journalists, suppress freedom of expression and sow fear. Those responsible cannot be allowed to succeed and must be held accountable before a court of law."
Later, about 60 people gathered in silence at an event at Writers Square organised by members of the French community in Belfast.
A candle-lit tribute has also been paid to victims of the Paris attack at St Anne's Cathedral in Belfast city centre.
Dean of Belfast John Mann said many people have come to pray for the victims.
"In St Anne's Cathedral, people of all ages have come and gone today lighting candles and praying, remembering the dreadful murders yesterday in Paris," he said.
"Our hearts go out to all who have been personally affected and we shall continue to pray for all who live under the threat of violence."
The candles will remain at the cathedral until Sunday.