Stormont House Agreement 'fixed budget imbalance'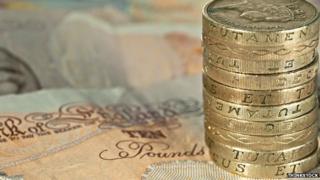 A financial consultancy that angered the Department of Finance by claiming the draft budget did not balance has said the Stormont House Agreement fixed the problem.
Esmond Birnie, who works for PricewaterhouseCooper (PwC), was accused by the Department of Finance of lacking understanding after he produced a report that expressed concern that the budget came before Programme for Government targets were agreed.
However, he now says it was significant that more resources had been given to the Northern Ireland Executive as a result of the agreement.
"The Stormont House Agreement, in a sense, confirms our and other people's analysis that the draft budget would require extra resources, extra borrowing power, in order to make it balance," he told BBC NI programme, The View.
"We can't be complacent, and a critical point is the UK as a whole is going to continue to have austerity right through towards the end of the decade, regardless of the outcome of this year's general election, so tough budgets still lie ahead.
"But at least for 2015/16, the immediate difficulties, in terms of balancing that and putting it on a credible basis, have been resolved in terms of the resources in the Stormont House Agreement.
"I think it is significant that in the final deal, more resources were provided to the Stormont Executive than had previously been on offer, so in that sense it was probably as good a deal as the executive would get in terms of their bargaining position."
However, a more pessimistic analysis is provided by former SDLP special adviser Michael McKernan, who claims the deal has been "overblown" and will do little to change Northern Ireland's financial reality.
"I thought it was good they've actually reached agreement," he says.
"Agreement is always better than disagreement, but I think it's been overblown considerably, particularly the international fanfare from Obama and (John) Kerry about the courage of our politicians, because to be honest the decisions requiring courage have been kicked on down the road.
"The decisions that have been agreed have been largely fairly easy things to agree."
The agreement provides the executive with additional spending power of just under £2bn.
But Mr McKernan says there is not enough new money on offer to relieve the pressure on the health service or the education system.
"One of the things that have been overblown has been this £2bn as though we held out for much more money from London and we got an extra two billion," he says.
Mr McKernan said that the figure "breaks down to not that much in relative terms".
"For example, spread over 10 years it's £200m a year, which is less than 1% of Northern Ireland's spending in any given year," he says.
"Also, what is actually new money from London is a third of that, so it's a third of 1% of what we spend every year.
"The rest is borrowing and flexibility; in other words allowing us to break some previous rules to use, for example, capital money for current purposes and to allow ourselves some flexibility, but the actual amount in real terms over 10 years isn't something that's going to change our reality financially.
"It isn't something which impacts on the current budget difficulties very much, because most of the new money is earmarked for other purposes."
The View was first broadcast on BBC One Northern Ireland on Thursday 8 January, and is available to watch on the iPlayer.