Corporation tax: Arlene Foster wants 10% NI rate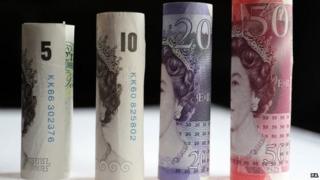 Enterprise Minister Arlene Foster has said she favours a 10% rate of corporation tax in Northern Ireland to give the region an edge over the Republic of Ireland.
She was speaking after a bill was introduced in Parliament that would devolve power over the tax rate to Stormont by the end of March.
"I would like to see it (corporation tax) go down to 10%," she said.
"I believe it would give us a competitive advantage."
Mrs Foster said that even dropping the rate to match the Republic of Ireland's 12.5% would boost the economy.
"It will raise the productivity level by at least 6% and that means people will have an extra £3,000 in their pay packet per year," she told BBC Radio Ulster's Inside Business programme.
Ms Foster is already planning a trip to the US in March to publicise a reduced rate, even though it has not yet been agreed and would not come into force until April 2017.
The DUP has previously stated that it wanted to undercut the Republic of Ireland with a rate of 10%, which would be half of what the UK rate will move to later this year.
"But I think, even if it went down to 12.5%, we have that competitive advantage," said Mrs Foster.
"We have a very strong talent pool, a very strong skills base here in Northern Ireland in terms of the costs for accommodation and for people working in Northern Ireland - it's lower than the Republic of Ireland."
You can hear that interview in full on BBC Radio Ulster's Inside Business programme at 13:30 GMT on Sunday.