Former Quinn glass firm being sold to Spanish firm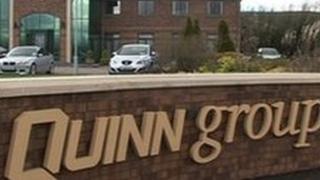 The former Quinn Glass business, which has a major factory in County Fermanagh, is set to be sold to a Spanish firm.
Vidrala, which is listed on the Spanish stock exchange, is expected to pay more than £300m.
Quinn Glass, which was rebranded last as year as Encirc, makes bottles and jars for the food and drinks industry.
Sean Quinn lost control of the firm in 2011 when a receiver was appointed to his manufacturing businesses.
A consortium of banks and other lenders then rebranded the manufacturing business as Aventas and have slowly been selling parts of the group.
The packaging and construction materials business has been sold to the Quinn Business Retention Organisation, with which Mr Quinn is associated.
The radiators' business has been sold to a group of Irish industrialists.
Employees at Encirc's Derrylin operation received a letter from management last week which said it was seeking to correct "misinformation" about the sales process.
The letter, which has been seen by the BBC, states that there was no local bidder for the business.
It also describes Vidrala as "a family owned and run business" which has "never closed a plant during their history of operation."
Aside from the Derrylin operation, Encirc has a factory at Elton in Cheshire.
In a statement on Sunday, Aventas reiterated that "misleading and inaccurate" information was being circulated about the sale in the Derrylin/ Ballyconnell area.
It said that since the outset of the sales process, the firm had set "a very high priority" on achieving a positive outcome for employees and local communities.
They added that the preferred bidder was "uniquely well placed to deliver on this priority".
The union, Unite, has welcomed a pledge to retain the local management team at the glass plant.
Jimmy Kelly from Unite said: "We welcome the announcement that the preferred bidder will retain the factory's local management team and has the significant reserves necessary to upgrade the Derrylin/Ballyconnell furnace.
"Such an investment provides considerable surety as to the long-term commitment of the bidder to the plant.
"We will continue to liaise with all relevant parties throughout the process of transfer."