Some Northern Ireland operations remain postponed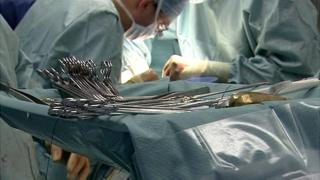 Some non-urgent operations in Northern Ireland did not go ahead on Monday as a result of ongoing pressures in emergency departments.
Patients in the Belfast, South Eastern and Western health trusts are affected.
The public were notified in advance by letter or telephone.
All of Northern Ireland's five trusts cancelled some operations last week in one of a series of measures to tackle demands on the emergency system.
At the weekend, the chief medical officer said 1,800 extra people attended hospital emergency departments across Northern Ireland in the past 15 days.
Dr Michael McBride said those who attended were sicker patients and took priority.
He was defending the decision to postpone non-urgent surgery last week.
"We must prioritise the care of the sickest and keep our hospitals safe," he told the BBC's Sunday Politics.
"I would apologise to those who had to wait longer - those who had non-urgent elective operations postponed," he said.
Speaking on Sunday, Dr McBride who is also head of the Belfast Trust, said there had been a 7.5% spike in the numbers attending emergency departments.
He apologised to people whose operations were postponed.
"We always plan for a period of sustained pressure at this time of year," he said.
A pollution alert and two icy mornings had an effect, he said, pointing to a 10% increase in fracture patients.
Dr McBride said recent statistics showed that last Monday, 40 patients were waiting in emergency departments for more than 12 hours; on Tuesday, the figure was 29; by Wednesday, it was one patient.
As of 09:00 GMT on Sunday, no-one was waiting more than 12 hours.
"We planned, we prepared and we responded," he said.
"Look at those waiting for more than 12 hours. In 2011 to 2012, there were over 10,000.
"Last year was the lowest number. It was a 40% drop on the previous year. The number was 91 this December, compared to 145 last year.
"Nobody should be waiting that long, but it is an improving situation."