All aboard? The day I bagged an interview with Charlie Haughey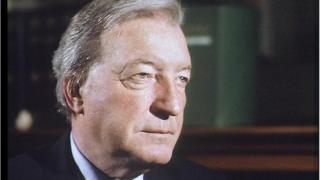 As Irish broadcaster RTÉ airs its biography of Charles Haughey: "the most controversial, most enigmatic, most divisive, and possibly the most talented politician of the past 50 years in Ireland", Gareth Gordon remembers the day he bagged an exclusive interview.
You've gained access to the yacht, you've got the interview, now what to do about the completely unexpected offer of a drink below deck from Charles J Haughey?
Yes, that Charlie Haughey, scourge of political opponents - and journalists - and just about everyone who ever got in his way.
This was the mid-1990s. The days of high political office - and some scandal - were behind him.
More scandal was to come.
Yet, by any stretch the former Irish prime minister (taoiseach) remained one of the most fascinating figures in Ireland's political landscape and the temptation to get him to talk was irresistible.
Against my own low expectations, I succeeded. Well kind of. On his terms. As, you suspected, was usually the case.
It was a Sunday and I found myself in Dingle, County Kerry, on the day of the Dingle regatta when, unknown to me, Charles Haughey always fired the starting pistol for the Curragh race.
In those days, I was a reporter with the BBC's radio current affairs department and always carried my tape recorder with me.
So when the race was over, I decided to try my luck. But where would he be and how would I find him?
I walked towards the marina that the people of Dingle knew they would not have had, but for the patronage of the former taoiseach.
After all, he spent his summers on Inishvickillane, the beautiful Blasket island he owned nearby. And his yacht, the Celtic Mist, had to have somewhere to berth on his trips to the lovely town of Dingle.
And there, at the end of the jetty, sat the yacht. It was now or never.
I stood there for quite a long time before a woman appeared above deck and asked me who I was and what I wanted.
I told her and waited for the instant rejection.
Instead, she told me she thought it was highly unlikely Mr Haughey would agree to any such thing, but she would at least do me the courtesy of asking.
After what seemed like an age, she returned. To my great surprise I was invited aboard.
I did not have time to be nervous. Or think much about what I was going to ask him. And then he emerged in a blue blazer after what was probably a very good lunch.
What did I want to know, he asked. There was no shortage of subjects I thought but I would take a punt on recent reports that he wanted to run for president.
I was quickly told that was off-limits, as was anything to do with his political - or personal - past.
In fact, the only thing he would talk about was his life in Dingle, and his life on - and love for - the island.
It was not quite what I had in mind. But hey, this was Charlie Haughey, this was his yacht and it was: "Take it or leave it". I took it and weighed in about his life in one of Ireland's most beautiful areas.
Things continued at a fairly stately pace for a good few minutes and, interested as I was in all things Dingle, I knew I would have to take a chance.
So when I thought we had exhausted Mr Haughey's chosen subject, I steeled myself and said: "There have been recent reports that you're interested in running for president."
Silence... seconds passed... more silence. Just a look of impatience from those famously scary hooded eyes.
Then a hand came forward - not around my neck but over my microphone - and he said: "I thought there weren't going to be any political questions."
The interview was over. At least I had tried. And failed. If getting further than you ever imagined you would can be regarded as failure.
Then the last big surprise. I was invited downstairs for a drink.
To my eternal regret, I said: "No."
The friend I had been with had already been left alone somewhere back at the harbour for what must have been an hour. And I thought it was time to bank my winnings/cut my losses and go.
Big mistake? Probably. But maybe it was for the best.
And as I watch the man they called "Charlie" eviscerate friends and opponents alike on my screen these Sunday evenings, I can at least remember the becalmed version of the same man I met that long ago Sunday afternoon in Kerry.