HIA inquiry: High Court judge says woman can have own lawyer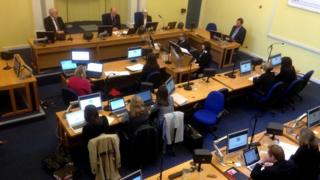 The Historical Institutional Abuse Inquiry was wrong to refuse a woman's bid for legal representation at public expense, the High Court has ruled.
The woman, a future inquiry witness, claims she was abused by a "high-profile public figure".
The judge said the inquiry chairman must avoid unnecessary cost.
However, he said this did not remove the "necessity for legal representation out of public funds if that is what fairness requires".
The inquiry is examining allegations of child abuse in children's homes and other residential institutions in Northern Ireland from 1922 to 1995.
It is the biggest child abuse public inquiry ever held in the UK.
'Understandably vexed'
Lawyers acting for the woman had argued the decision by inquiry chairman Sir Anthony Hart to refuse her funding application was unlawful and would give an unfair advantage to alleged perpetrators.
An inquiry solicitor told the court that witnesses did not need legal representation, nor should it be met by public funding.
He said it was an inquisitorial process where witnesses were there to fulfil the inquiry's terms of reference, and more lawyers "carrying on some form of parallel investigation" would be a duplication of work.
The judge said the inquiry chairman was "understandably vexed" by the potential cost implications of allowing her application.
He said the legislation that set up the inquiry meant "the chairperson must act with fairness and with regard also to the need to avoid any unnecessary costs".
If fairness required legal representation, the cost of providing it could not be regarded as "unnecessary", the judge said.
The inquiry chairman had argued that granting legal representation would place a "very considerable extra burden on the inquiry".
However, the judge said that if that meant unrepresented witnesses got less disclosure than if they had their own lawyers, it underscored the value of legal representation.
The judge asked: "Why should the perpetrator be placed in a materially more advantageous position in terms of legal representation, especially in circumstances where he already enjoys more participative rights to safeguard his interests?
"Can this objectively and as a matter of public law be regarded as fair?"
He added: "I consider the chairman set the bar too high, especially bearing in mind the high stakes for all concerned."