Relatives of IRA victims seek truth at On the Runs committee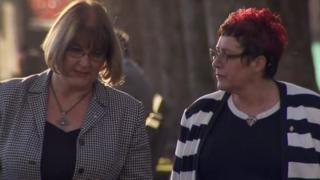 Relatives of IRA victims said they hoped to get the truth from former Prime Minister Tony Blair as he gave evidence to the Westminster committee investigating the On The Runs (OTRs) scheme.
Under the scheme, set up in 1999, letters were sent to more than 200 republican paramilitary suspects.
They were told they were no longer wanted by police.
Phyllis Carruthers and Shelley Gilfillan were at Westminster.
Mrs Carruthers, who is the widow of reserve constable Dougie Carruthers, murdered by the IRA in May 1991, said she wanted to look Mr Blair in the eye.
"I was part of a delegation that went over to Downing Street and talked to Mr Blair," she said.
"He listened and was apparently sympathetic to what we had to say, and when we left we felt he had a fair understanding of where we were coming from and the hurt that we felt at the prospect of On the Runs.
'Heavy heart'
"I hope to get the truth, and I want to look Mr Blair in the eye almost 10 years later to see what's behind the man - I feel that criminal justice should be bigger than any man, even the then prime minister."
Shelley Gilfillan, is the niece of part-time UDR man Hugh 'Lexie' Cummings who was shot dead by the IRA in 1982.
She said she was attending the committee with "a heavy heart".
"I would like to think Tony Blair would be man enough to stand up and say, 'Yes, I gave the go-ahead for these letters'," she said.
"I think it's only fair on the innocent victims who have been left behind to be told the truth - after all, we are the ones who are suffering."
The OTRs scheme came to public attention in 2014 when one of the letters caused the Hyde Park bomb trial to collapse.
The Hyde Park attack killed Squadron Quartermaster Corporal Roy Bright, Lieutenant Anthony Daly, Trooper Simon Tipper and Lance Corporal Jeffrey Young on 20 July 1982.
The OTRs scheme began while Mr Blair was prime minister. It was set up following talks with Sinn Féin.
Mr Blair told the committee on Tuesday that the scheme was "not an amnesty" and was "not secret".