Harland and Wolff wins major contract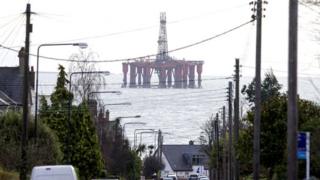 Harland and Wolff has won a major contract involving work on an oil rig due to arrive in Belfast this week.
It will create work for around 1,000 contractors for a period of between eight and ten weeks.
The company is also recruiting 60 more permanent staff due to "strong performances in the offshore oil, gas and renewable energy sectors".
The contract's value has not been disclosed, but it is thought to be worth millions of pounds.
The rig, Byford Dolphin, previously underwent repairs in Belfast 10 years ago.
Director of ship and offshore unit repair, James Lappin, said: "This is a significant project for Harland and Wolff and for Northern Ireland.
"As well as employment opportunities, the supply chain within Northern Ireland will see significant activity in support of the project.
"In short, tens of millions of pounds will flow through the local economy."
'Foreign contractors'
Last year another rig, Blackford Dolphin, owned by the same company, was in the Belfast shipyard for six months.
At one stage, posters appeared in parts of Belfast criticising the yard's use of foreign contractors.
Harland and Wolff said it had to look outside Northern Ireland for workers because of a shortage of skills in the local labour market.
UKIP MLA David McNarry criticised the yard for "importing labour".
Since then, the Department for Employment and Learning has set up a pilot welding course for 30 young people at two colleges.
Hotels
Harland and Wolff stopped building ships more than a decade ago.
Currently the company, a subsidiary of Fred Olsen Energy, is more accustomed to oil rig repairs and ship refurbishment work.
Although it has a core workforce, it often recruits tradesmen from Britain and Europe for larger projects.
The move results in a boost for a number of hotels in the city.