Former Quinn Glass firm Encirc bought by Vidrala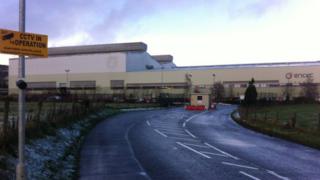 The former Quinn Glass business in County Fermanagh has been sold to a Spanish firm.
Quinn Glass, which was rebranded last year as Encirc, makes bottles and jars for the food and drinks industry.
Vidrala bought the company in a deal worth 408.6m euros (£316.3m).
The Spanish glass manufacturing company has extensive businesses interests in Europe but no manufacturing presence in the UK or Ireland.
The transaction involves Encirc's manufacturing plants in Derrylin, County Fermanagh and Elton in Cheshire, as well as its filling operation at Elton.
Former billionaire Sean Quinn lost control of the firm in 2011 when a receiver was appointed to his manufacturing businesses.
A consortium of banks and other lenders then rebranded the manufacturing business as Aventas and have slowly been selling parts of the group.
Aventas CEO Paul O'Brien said Vidrala had "the ability and expertise to continue to invest in Encirc which has acquired an international reputation for both product quality and service excellence".