Gerry Adams behaviour during NI talks 'outrageous' says Taoiseach Enda Kenny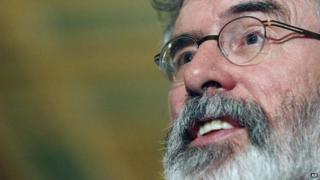 Sinn Féin leader Gerry Adams' behaviour was "outrageous" during talks that led to the Stormont House Agreement, according to the Taoiseach (Irish prime minister).
Enda Kenny said he wanted to take Mr Adams "to task" over the talks.
He said that the Deputy First Minister Martin McGuinness "was quite prepared to make much more progress".
Northern Ireland's main parties reached broad agreement in December on a number of key issues.
It followed weeks of talks involving the UK and Irish governments.
The brief exchange happened on Wednesday during leader's questions in the Dáil (Irish parliament) as Mr Kenny answered a question about the Republic of Ireland's health service from the Sinn Féin president.
Later on Wednesday, Mr McGuinness said on Twitter that the Taoiseach's remarks were "silly and wrong".