Dr Peter Fitzgerald plans corporate hospitality centre near Bushmills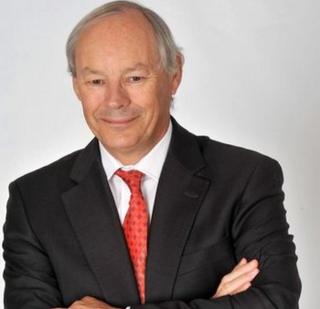 One of Northern Ireland's leading businessmen has outlined plans for a new corporate hospitality centre near the Giant's Causeway in County Antrim.
Dr Peter Fitzgerald bought two large sites near Bushmills late last year.
The sites were Dundarave estate, which will house the proposed centre, and development land at Runkerry.
The Runkerry land had been earmarked for a controversial £100m golf resort and five-star hotel but faced opposition from environmentalists.
Dr Fitzgerald's firm said planning permission for the golf course and hotel remained and "all options" were currently being assessed.
'Magnificent area'
The businessman is the founder and managing director of Randox Laboratories, one of Northern Ireland's most successful indigenous companies.
Based in Crumlin, County Antrim, Randox develops and manufactures medical testing equipment that is exported throughout the world.
The Dundarave estate includes a 19-bedroom stately home called Dundarave House, a farm, cottages, outbuildings and shoot business.
It is understood that the proposed corporate hospitality centre is to be based at Dundarave House, as part of an extensive restoration programme.
In a statement, Randox said: "The facility will also be used as a leadership centre for transformative medicine - a venue to host conferences, seminars and educational events."
Dr Fitzgerald was interviewed by the BBC's Good Morning Ulster programme a day after Randox announced it was creating 540 jobs in Northern Ireland.
He told the programme that the purchase formed part of his firm's plan "to expand our sales and marketing worldwide".
"We're going to make it a corporate hospitality centre. We'll be bringing customers and potential customers from all over the world.
"The north coast is a magnificent area, we want people to see that area. We want to interact with them to get more business for Northern Ireland."
'High net worth'
Randox products are used in medical labs in more than 145 countries and last year it had a turnover of £150m.
His firm's statement said it hoped the proposed corporate hospitality centre would attract "high net worth individuals and organisations into the region, adding significant wealth, new business and investment not only to County Antrim but also to Northern Ireland."
The company added that a health, wellbeing and diagnostics centre, open to the public, would feature as part of the proposals for the development of the site.
The BBC reported that the original Bushmills Dunes golf resort and spa proposal had foundered last November.
'Planning permission'
It had been years in the planning but environmentalists had objected to the development because of its proximity to the Giant's Causeway, which is a UNESCO world heritage site.
In 2013, the National Trust, which owns the causeway, failed in a legal challenge to block the Bushmills Dunes golf course plan.
In July 2014, the businessman behind the proposed resort, Dr Alistair Hanna, died.
When asked about the current status of the golf resort plan, a Randox spokeswoman said: "Planning permission remains in place, we are assessing all options open to us."
A spokesman for the National Trust said: "We are keen to look at ways to work with the new owners of the land to ensure that this important landscape and Northern Ireland's only World Heritage Site can be suitably protected."